It only hurts a little bit
on
January 1, 2017
at
5:59 pm
I come bearing good news!
The rest of Chapter Zero is written and we'll be back to our normal schedule in finishing it off! This counts for our Wednesday update, but I was impatient and wanted to start off the new year with a new comic. (Plus I needed to take the Lightfest decorations down.) So the next update will be Friday, and then the next Wednesday and Friday and so on until we're done. Then we might take a little break before returning to the main story, but hopefully not!
Finally, if you want to support the comic and check out all the bonus sketches I've been doing over the past few months…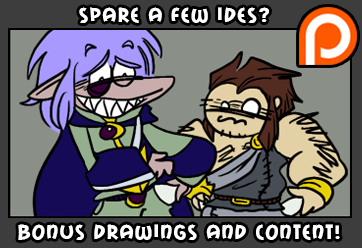 I was heavily dedicated to another pursuit in 2016 (theatre) but 2017 is a year in which I resolve to focus heavily on my one true creative love again- this comic. I look forward to you it, and to you joining us for the ride! We have some stuff planned in the main story I've been looking forward to for YEARS, and I can't wait to draw the end of this arc as well!
-Courtney